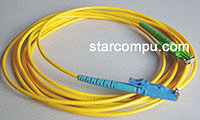 E2000 fiber optic patch cord,E2000-LC,E2000-SC,E2000-ST,E2000-FC,E2000-MTRJ,etc ,single mode and multimode types, simplex, duplex, PC,UPC,APC,cable length and various fiber glass optional.
Constant innovation in the field of fiber optics has created demand for products with ever increasing performance requirements. The E-2000 fiber optic cable system is to address the customers' highest expectations. The E-2000 fiber optic patch cord results in super performance on insertion loss as well as exceptional repeatability.
E2000 Fiber Optic Patch Cords Features:
High Reliability
High Return Loss
Low Insertion Loss
Color-coding and mechanical keying to ensure correct mattings.
Spring-loaded protective cap for high power applications providing increased safety protection.
Modular designed mating adapters with metal protective shutters for high power applications.
E2000 body designed to prevent end face damages during mating process.
E2000 Fiber Optic Patch Cord Applications:
Telecom Net
Optical Fiber Sensor
CATV
Test Equipment
Database Transmit