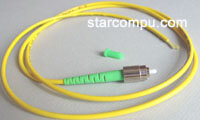 Single mode fiber optic pigtails, PC, UPC, APC, 9/125, multimode,50/125,62.5/125 FC fiber pigtail.We supply FC fiber optic pigtails, including the single mode and multimode types, these FC fiber pigtails are with premium grade connectors and with typical 0.9mm outer diameter cables. They are with different cable color, cable diameter and jacket types optional.
FC fiber optic pigtail connector is compliant to IEC, TIA/EIA, and NTT and JIS specifications. The FC connector is with PC, UPC, APC versions. Both single mode and multimode versions come with a zirconia ceramic ferrule. The FC cables are low back reflection and optical loss while ensuring maximum repeatability. FC fiber pigtails use with 9/125 single mode, 50/125 multimode or 62.5/125 multimode fiber.
FC Fiber Optic Pigtails Features:
Low insertion loss.
High return loss.
High stability and reliability.
FC Fiber Optic Pigtail Applications:
FTTH, LAN, PON & Optical CATV
Local ring net
Optical fiber communication system
Optical fiber test equipment
Optical fiber sensor